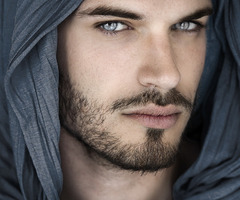 Myths and legends come from some part of truth, though how much is truth now and how much is lies. There was one story that Jezic didn't much care for, and that was the one about his heritage. Even though he didn't want to remember the story, the words rang loud in his head almost every night he fell asleep.
Gather around children and listen to my story. A story filled with evil demons. But not to worry, for this story will have a happy ending.

Decades ago, when the Old Oak Forest stretched much farther than it does now, a village filled with monsters sat at its core. These monsters, demon creatures from hell went on the prowl. Stalking us in the dead of night, stealing poor little kids, just like you, out of their beds. Dragging them off into the shadows and eat them alive. No one was safe. Your grandfathers can attest to this. So they formed a mighty group of demon hunters. They would stop at nothing to end this nightmare, the fright and terror caused by the evil village in the forest.

Protecting the village and slaughtering all the demons that dare enter was their passion but they feared this would not be enough. They scouted out the woods by day, when the monsters slept and found their home in the center. The demon hunters noticed that the creatures were breeding, creating an army and preparing for a war. Many scouting missions passed and little by little they learned the demons way. The males were the warriors, hunters who slept by day and woke at dusk. The females were the nurturers and gathers who protected the village by day and slept at night.

With all the evidence gathered, your grandfathers took action. They would strike first. Take the demons by surprise. They would burn the whole forest down if needed.

As your grandmothers, mothers, and fathers said their good-byes the demon hunters set off. They formed a perimeter around the evil village and lit it ablaze. The smoke could be seen for miles upon miles. The battle lasted two weeks. Many were dead, dying or wounded. But at last our village was safe from the evil once more.
Jezic had planned to just go through the town without a second thought but as the night drew on he realized that it would probably be best just to stay the night. He kept his hood up tightly around his face and the cloak tightly shut. He wasn't about to let anyone get too close to him otherwise it could end badly for them. Jezic really didn't want to kill anyone in this town that hadn't provoked him. As his steel orbs scanned the area it seemed as though there was tenseness to the air in this town. Something that he needed to check into and see if it would cause problems for him "Excuse me" Jezic walked up to the front desk of what looked to be an Inn of sorts. "Can I help you?" A strong voice carried to his ears "Are there any rooms available for the night?" Jezic shifted under his cloak to pull out some money waiting to hear the guy's response. "There are but I must ask for you to remove your hood" he was told and Jezic narrowed his eyes at the guy though he was sure that the desk clerk couldn't see them. Removing his hood could spook many people, some didn't like the look of his eyes and others didn't like the fact that upon his head there looked to be horns. "If that is a requirement for me to get a room then I'd rather not" Jezic announced to the guy placing his wallet back into his pocket and left the building.
Once back outside the building his eyes scanned the area quite disappointed that he wasn't able to get a room
'Better keep looking'
he thought to himself and started on his way through the town and possibly out of it. This place was already giving him a bad feeling, so it was better idea that he leave and quickly. Jezic kept close to the buildings and to avoid the towns' people as he headed out of the town or what he thought was out. But not a few seconds later several people came rushing towards him and almost shoving him out of the way to get to something elses. He quickly jumped into an alleyway and watched as more people rushed by. That definitely got his attention, what was so important that almost everyone in town had to be present. After the crowd thinned he slowly walked out from the dark onto the sidewalk and followed the stragglers to a group of people surrounding something.
Jezic didn't even have to stand on his toes to see the center of the group and all he saw was a young lade standing there very scared. It looked as if the towns people were going to attack her if not kill her. Now this was turning out to be very interesting and as much as he liked bloodbaths, this one was taking it a bit far, especially for just one little girl. Jezic took several steps backwards to judge the distance between the circled crowed and the girl
'Not bad'
he thought to himself as he crouched towards the ground and pushed off, launching himself into the air. It took only a second and he landed in the middle of the crowd right in front of the girl. Jezic crouched just before hitting the ground to soften his landing and then stood to his 6'2 height. He looked down at the girl for a second and then turned to face the crowd. "Now I'm sure there is a perfectly good explanation as to why all of you are crowding this young lady but with those looks on your faces I don't think I'll like the reason" Jezic raised his voice above all the murmurs and comments. "Why don't all of you back off some before I take matters into my own hands" he warned then though he was kind of hoping that someone was stupid enough to make a move towards either the girl or himself. That's when things would get even more interesting…for him at least.



Number of posts

: 486


Age

: 29


Location

: NoWhere and EveryWhere


Registration date :

2013-01-12



Ever since Zoe attacked her father for killing her human mother, she had been on the run. She ran far from home, if it could be called that, as her feet could take her. She was afraid and lost, but she knew she had to keep running. She lived off the land and spent her time keeping to the forests. She tried to keep away from the human villages, but eventually she needed supplies.
Venturing into the first town she found, she moved slowly as she tried to not attract attention. Hopefully she looked human enough that they wouldn't give her a second glance. But the farther insidete town she got, the more uneasy she felt. The tension in the town seemed to rise, and soon she was surrounded. Getting nervous, she searched for a way out, but there was none. All of the humans attentions were focused on her. That wasn't good at all.
Her gaze shifted, to the man who suddenly landed in front of her. Fear griped her, and she thought he was going to join them, but instead he said he was going to defend her. Her mouth felt dry, and her hands felt sweaty as her heart raced. Zoe wanted no one to get hurt because of her, but couldn't find her voice to protest.
(=D is this okay? Sorry if there are typos. I couldn't wait to reply. So I wrote it via phone.)



Number of posts

: 1233


Age

: 32


Registration date :

2009-01-14



At Jezic's announcement more people seemed to crowd around the two of them, how many people actually lived in this town he questioned but it quickly left his thoughts when one man from the crowd stepped forward "Her kind are not allowed here. The penalty is death for even stepping onto our land" the man announced and Jezic smiled wickedly which made a few people close to him back away. This was the sort of thing he relished in, though he was sure that his smile did nothing to change these people's minds about his kind but if it meant that he could have a little fun Jezic was going to do it. "You know, I was hoping that one of you would say something like that" Jezic replied in a soft tone though his voice carried well above everyone else.

With that much Jezic finally removed his hood to reveal two very large silverish horns on top of his head that curved backwards and then let his cloak open wide enough to let two thick black leather like wings spread out behind him. "If her kind is not welcome then my kind certainly is not" he began again with almost a sick humor to his tone. Jezic's little stunt made more humans back away from him however others seemed to step forward like they were getting ready for a fight. "Trust me, you do not want to cross my path on a good day. Now you have two options, one: you leave this girl and myself be so that way we may leave this town or two: I cause so much bloodshed that it will take you years just to get over the losses" he kept his eyes trained on the ones that stepped forward, like they welcomed his challenge just in case they jumped at him without thinking. The man that spoke to him first looked at his men and their expression never changed, Jezic knew how this was going to go but he was at least going to give them the peaceful option whether they took it or not. Then the man looked back at Jezic with fire in his eyes "No deal" he told him and quickly stepped forward to grab for the girl.

Well the town's people didn't exactly mess with him but they had tried something with one like him. So this was going to be how it was and Jezic didn't mind one bit. "So be it" Jezic replied coldly and with one quick motion he undid his cloak, tossing it out of the way then grabbed the man's wrist. Next he launched his hand upwards and hyper-extended the guys elbow. Jezic was rewarded with a sweet crack of the man's bone. "I will make this town rain with blood" Jezic called out after showing the 'brave' man away from him.



Number of posts

: 486


Age

: 29


Location

: NoWhere and EveryWhere


Registration date :

2013-01-12



Her gaze watched the humans, her kind. Zoe wanted nothing to do with the demons, she didn't want to be associated with them. Her father made her hate who and what she was. The scar on her face, from her nose to her right cheek was a constant reminder of how much he hated her.

Zoe's attention shifted back to the demon who was helping her. He threatened bloodshed. And still the humans refused to let her go. Feeling the man grab her, she gasped, flinching. But then he was grabbed. Wide eyes watched as the demon dropped the man from the air and broke his neck.

"Please! Don't kill these people over me," she pleaded, speaking up. Her human half hated hurting people.



Number of posts

: 1233


Age

: 32


Registration date :

2009-01-14



Jezic's eyes turned from their normal steel color to golden orbs that shone red. For a second he turned to look at the girl, was she really asking him to leave these sickening humans be after they had threatened to kill her with no questions asked. However that thought passed quickly, his rage had already built up and chose to ignore her words. Jezic had warned the humans to let them leave peacefully and yet they still tried to assault the girl, so instead of doing as the girl asked he barreled through the crowd of people, grabbing a few of them and tossing them a good distances from himself. Some of the towns people drew weapons on him, however not many of those men survived. Jezic made his way around the circle of people taking out stragglers but made sure that kids were not touched. That was one thing he refused to kill...well at normal times, he couldn't always follow his own rule when he blanked. Women who held weapons that attacked him were no exception, they chose to hold that blade then they also had a right to die.

He was nearing the center of the crowd again so that he could snatch the girl up into his arms and take off but just as he got near her he felt a cold blade make contact with his back. That stopped Jezic for a second and then he spun around seeing a man covered in blood. Jezic's smile turned sickening to all the on lookers and then walked up to the guy holding the sword. The mans blade dripped with his blood and Jezic stopped right in front of him. There were several things that he wanted to do to this man but as his eyes scanned the area he figured that he had done enough damage "I hope you change your ways and if not...I will be back" he said softly "Remember today and the choice I gave all of you. This could have been prevented, had any of you spoken up and let us pass, no one would have died" Jezic called out and he could tell that some of them were rethinking the course of the last hour. He then turned once again and walked up to the girl after he grabbed his cloak off the ground. Jezic thought of several things that he could say to her but just looking at her he figured she would ignore him, so instead he slung her cloak around his shoulders and clasped it in the front. Jezic would take his leave now before the humans came to their senses from the shock and attack him.



Number of posts

: 486


Age

: 29


Location

: NoWhere and EveryWhere


Registration date :

2013-01-12





Similar topics
---
Permissions in this forum:
You
cannot
reply to topics in this forum